After the meeting, initially scheduled for 2020, had to be postponed due to COVID-19 restrictions, members of the EU Naval Forces Somalia, travelled to Amsterdam to meet with representatives of the Somali community coming from different parts of the Netherlands to join the meeting.
On Saturday 2nd October 2021, members of the EU NAVFOR's Operation Headquarters in Rota travelled to Amsterdam to meet with members of the Somali communities in the Netherlands. The event had been jointly organised with the Federation of Somali Associations in the Netherlands – FSAN, bringing together Somali diaspora of all ages, genders, and occupations, including Mr. Ali Mohamed Abukar, Counsellor of the Somali Embassy to the Benelux as special guest.
FSAN, founded in 1994, is a platform of and for Somalis. It acts as the national advocate and mouthpiece of the Somali community in the Netherlands. Its main goal is optimal participation of Somalis in Dutch society and to strengthen the position of the Somali community in general. FSAN largely consists of professionals who, from their own field of expertise and vision, are committed to the development of national projects and activities. In addition, FSAN stimulates initiatives from the Somali diaspora that aim to build peace and develop Somalia. The foundation supports local organizations, brings them into contact with each other and identifies problems or opportunities that transcend the local level in order to respond to them with actions and projects. Projects coordinated by FSAN and carried out at local level by local partners are aimed at combating female circumcision, emancipation, social participation, employment, entrepreneurship and mental health care.
The purpose of this meeting was to reconnect with representatives of the diaspora after COVID imposed limitations on face-to-face gathering and get first-hand insights on how Somalia's situation is changing and the perception of that change in society within Somalia and overseas.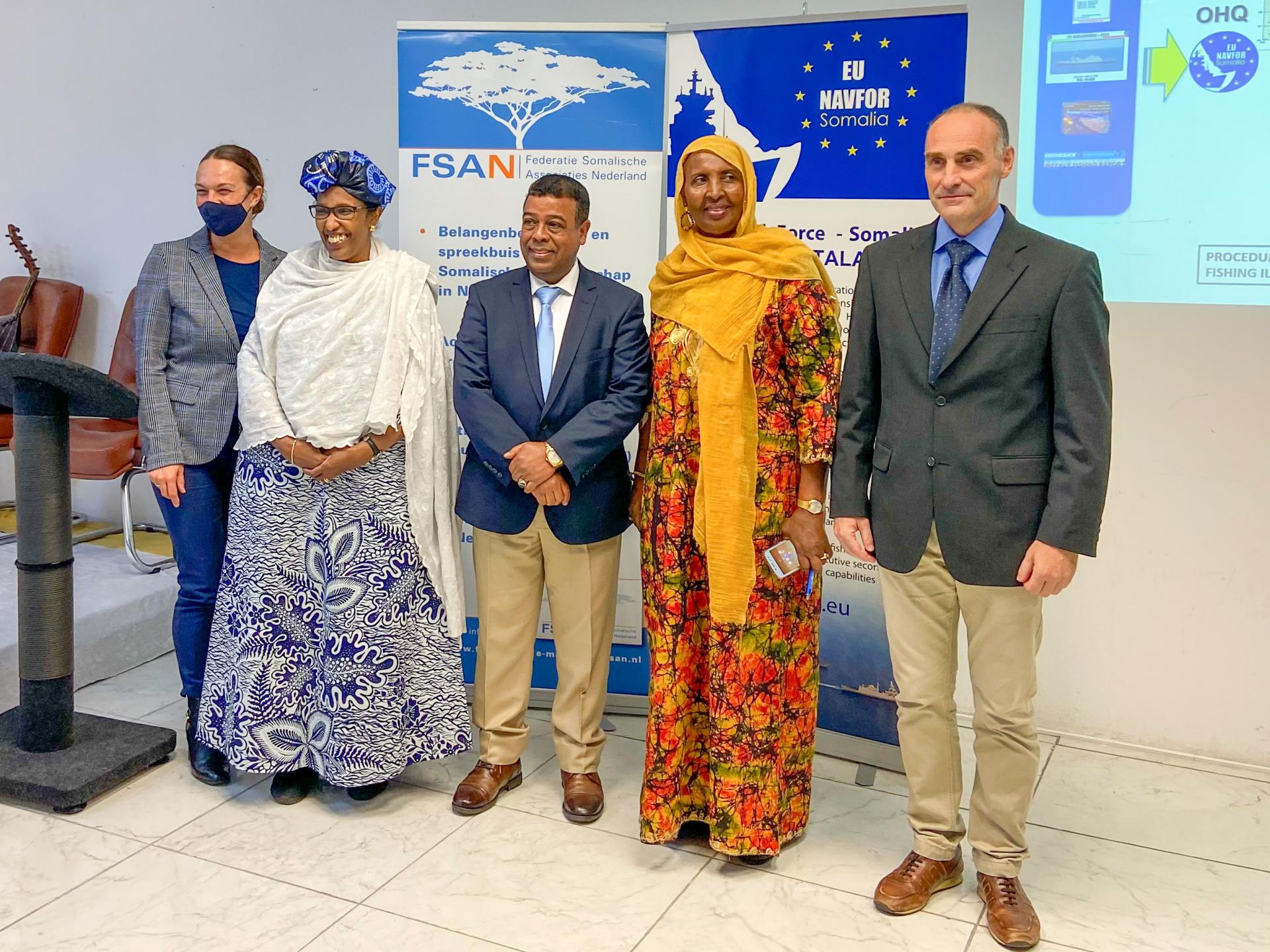 Initial introductions were followed by presentations on Operation ATALANTA, giving a full update on our current efforts, and a very insightful presentation on the Somali diaspora in the EU by Mr. Nur Icar, Counsellor to the Local Government of The Hague. After presentations, there was room for questions, during which EU NAVFOR asked about their experiences and perceptions of Somalia, and to share their views on counter-piracy efforts in the region. Diaspora members also had the opportunity to ask questions directly to EU NAVFOR revolving around counter piracy, the monitoring of fishing activities, the protection of WFP shipments of humanitarian aid and the role of women to fight piracy in Somalia.
Discussions continued over traditional Somali food, given everyone the chance to ask follow-up questions and exchange contact details in a less formal and more relaxed atmosphere.
"This first meeting has been an incredible opportunity for exchange between ATALANTA and the diaspora in the Netherlands. These close links keep us informed and are invaluable to improve our operation and continue our mission effectively. We are extremely grateful to Mr. Ali Ware, for his great effort over the last months to bring this meeting together. We hope it will be the first of many more to come."                                          
LTC Luis Ferrer
October 2021