"Today, this roundtable gives us the opportunity not only to exchange our understanding of these maritime challenges, but also to pave a productive and clear path for fruitful, future cooperation with the Sultanate of Oman."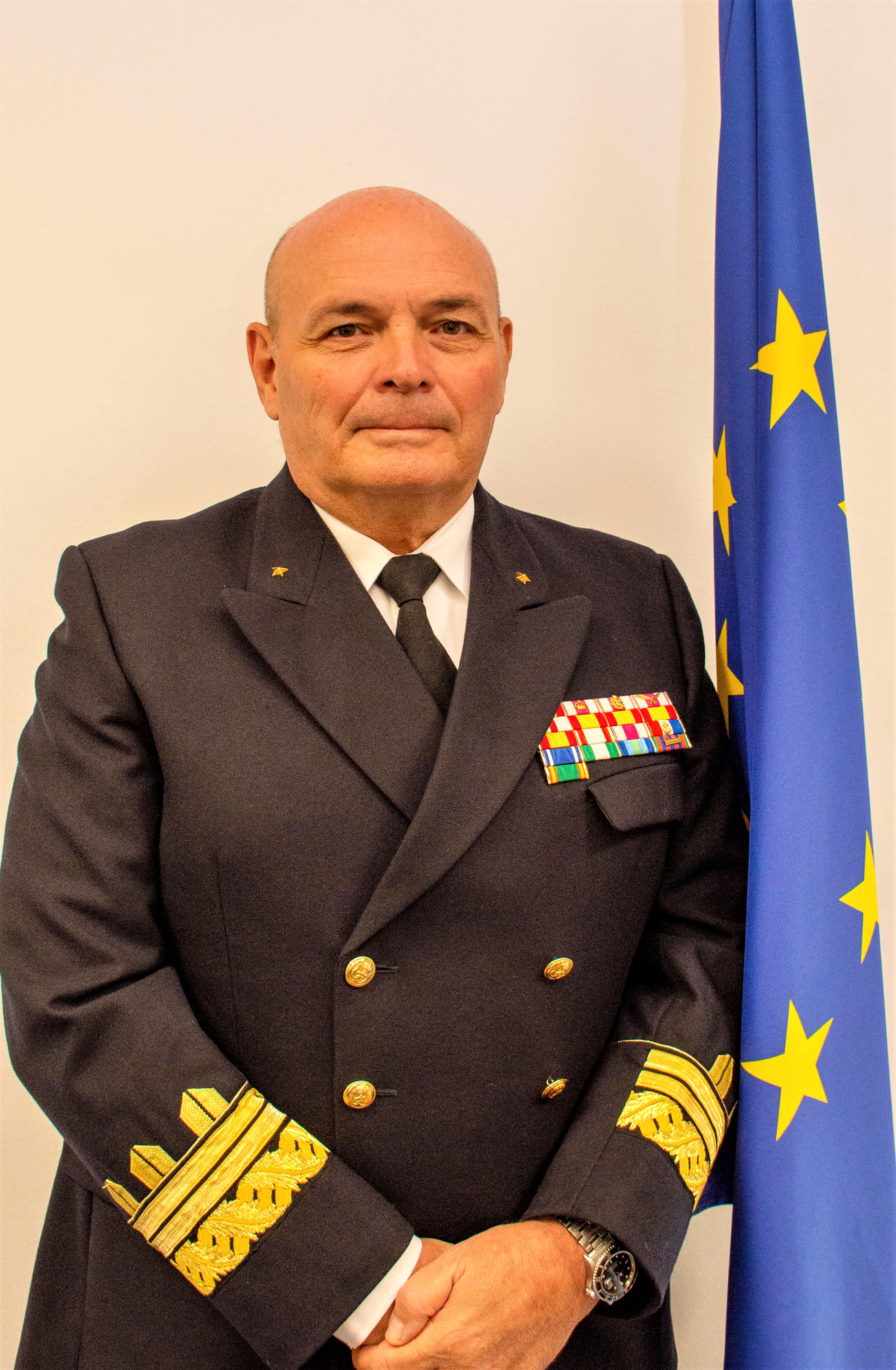 Major General Antonio Planells Palau
Operation ATALANTA Commander
28 October 2019—During the Operation ATALANTA Flagship ITS Antonio Marceglia's port visit in Muscat on Monday, EU NAVFOR Somalia Operation ATALANTA conducted high-level, defence diplomacy discussions on maritime cooperation with Omani authorities. Representatives from the European Union (EU) delegation to the Sultanate of Oman and a representative of the European Special Representative in the Horn of Africa also participated in the discussions.
The OMAN-EU Roundtable Discussion gave EU NAVFOR Somalia Operation ATALANTA and the Omani authorities the chance to discuss current affairs and explore opportunities for further cooperation. EU representatives in the meeting included EU Ambassador Michele Cervone d'Urso and Operation ATALANTA Commander Major General Antonio Planells Palau. The Omani authorities participating in the discussion included the Head of the Omani Royal Navy and Omani representatives from the Maritime Security Center and the Ministry of Foreign Affairs.
The relationship between the Sultanate of Oman and the European Union has grown exponentially over the past ten years, especially through collaborative activities with Operation ATALANTA. The Roundtable Discussion in Muscat focused on how a newly implemented cooperation concept for Operation ATALANTA can help further enhance this cooperation between Operation ATALANTA and Omani forces, while also involving other actors in the region. Operation ATALANTA continues to greatly value cooperation from contributing organisations and countries like Oman to effectively combat piracy.
"There is a wide variety of challenges at sea, especially in the West Indian Ocean," said EU NAVFOR Somalia Operation Commander Major General Antonio Planells Palau in a speech on Monday. "Today, this roundtable gives us the opportunity not only to exchange our understanding of these maritime challenges, but also to pave a productive and clear path for fruitful, future cooperation with the Sultanate of Oman."
Oman's Maritime Security Center (MSC)— in coordination with other maritime security actors—is responsible for commanding and controlling maritime security off the coast of Oman and sharing information on piracy, organised crime, maritime terrorism, smuggling, sea pollution and fisheries with international maritime security agencies. With support from the Omani MSC, EU NAVFOR Somalia Operation ATALANTA secures and maintains safety and stability in the region.
The Sultanate of Oman has been cooperating with the European Union through collaborative activities with EU NAVFOR Somalia for ten years. Today, Operation ATALANTA's regular port visits in Salalah and Muscat entail strategic meetings, joint responses to pirated ships off the coast of Oman, maritime capacity building and training, information-sharing and various joint exercises and operations.
Read more about maritime cooperation between the Sultanate of Oman and EU NAVFOR Somalia Operation ATALANTA