OPERATION COMMAND
The month of June kicked off with two important events in London. On 8th June, the Operation Commander visited the headquarters of the International Maritime Organization (IMO), where he met IMO's Secretary General Kitack Lim. Due to the pandemic, the regular annual meetings could not happen since November 2019. The Operation Commander provided a detailed update on the Operation after the non-extension of UNSC Resolution 2608, including its implications on important aspects like the operation within Somali territorial waters, or the impact on Atalanta's core tasks, i.e. protection of WFP chartered and vulnerable vessels. Secretary General Kitack Lim expressed clear support to ATALANTA, on the fact that Atalanta successfully provided protection to vessels, regardless of their flag, which underlined the role of the EU in the maritime domain.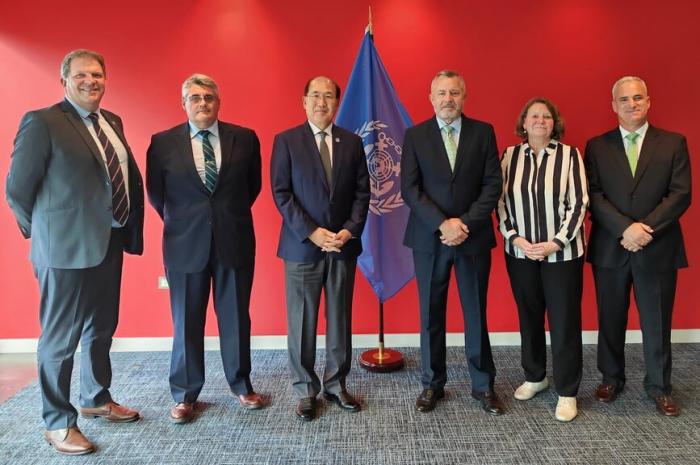 The following day, the Operation Commander was invited the representatives of the most important global shipping industry associations, IMO, United Kingdom Maritime Transport Organisation (UKMTO), NATO Shipping Centre, and the International Maritime Bureau (IMB), to the 12th Industry Strategic Meeting (ISM), which takes place twice per year. For the first time, the ISM found a venue in the premises of the European Union Delegation to the United Kingdom and Northern Ireland. In her welcoming address, the Deputy Head of EU Delegation, Nicole Mannion, underlined the importance of the shipping industry for the EU, the role that Atalanta has played in protecting shipping traffic in the Horn of Africa, and its contribution to achieve a rule-based order in the maritime domain, as well as the support to the European External Action Service (EEAS) in the Western Indian Ocean Region. The Operation Commander centred his remarks on the situation after the expiry of UNSC Resolution 2608, on Atalanta's flexiblility to adapt to a post-piracy scenario. Atalanta's participants shared observations about identified trends in the use of Privately Contracted Armed Security Teams (PAST), and the behaviour of shipping traffic, as well as a threat assessment. A representative of the EEAS Directorate Integrated Approach for Security and Peace presented the concept of the Maritime Area of Interest in the Northwest Indian Ocean.
Representatives of the shipping industry updated on the ongoing review of the High Risk Area (HRA), which will probably be abolished. A decision, however, has not been taken yet, as a wide consensus among their members is required.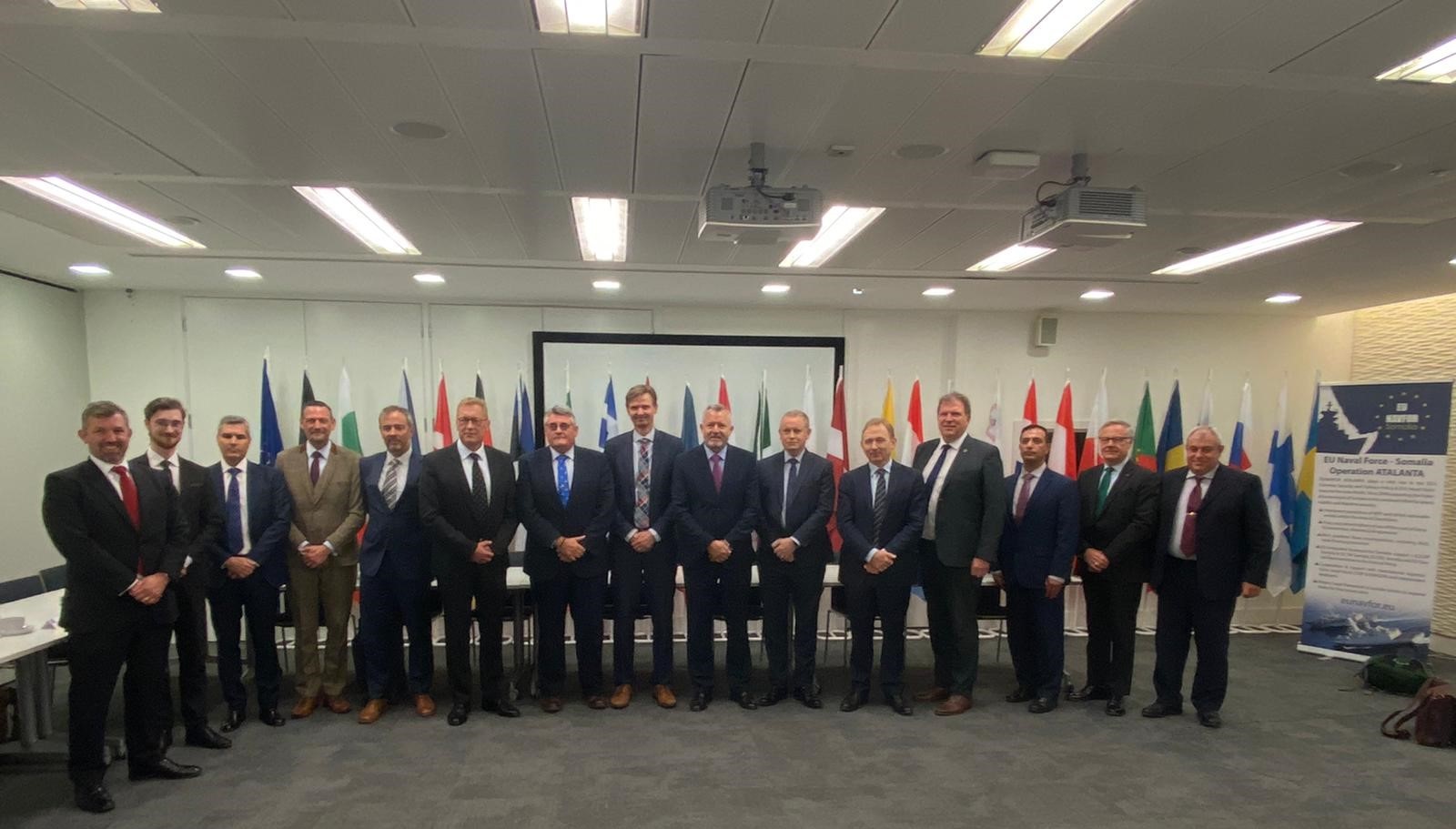 12th Industry Strategic Meeting attendees
On 10th June, cadets of the ESP naval academy visited the OHQ and received a briefing on maritime awareness in Atalanta's Joint Operation Center. DCOM had an exchange with the cadets, during which he underlined the significance of multinational and cooperative operations for global maritime security.
In the course of the Holistic Strategic Review of CSDP engagement in Somalia/HoA, a joint delegation of the Integrated Strategic Planning for CSDP and Stabilisation Division (ISP.3) and the EU Military Staff visited the OHQ on 20th and 21st of June. The future development of Operation Atalanta's mandate and possible adaptations, as well as its place in the concert with its CSDP sister missions EUCAP-Somalia and EUTM-Somalia were discussed. In the week after, the Director of ISP.3 Stefano Tomat led a Scoping Mission to Mogadishu for talks with Somalia's new political leadership and government authorities, EU entities and international stakeholders. One of its Political Advisors represented Operation Atalanta during this visit.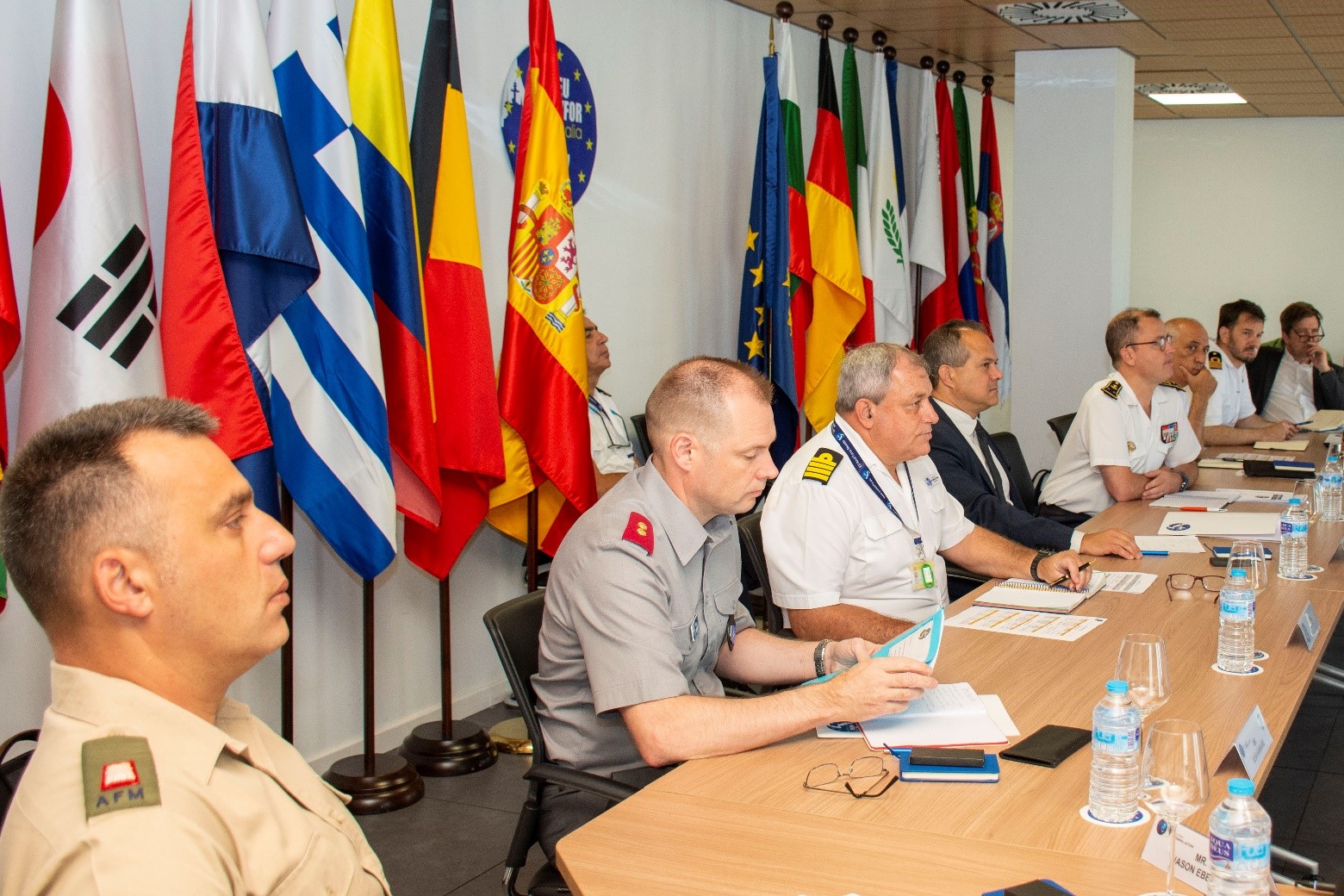 Joint delegation of the Integrated Strategic Planning for CSDP and Stabilisation Division (ISP.3) and ATALANTA representative
On the occasion of the 20th anniversary of European Maritime Safety Agency (EMSA), Atalanta's Deputy Commander paid a visit to the organisation's information center service in Lisbon, where Rear Admiral Slaars met the Head of EMSA's Digital Services. Atalanta and EMSA work closely together in developing an accurate multi-level picture of maritime activity in the northwest Indian Ocean in order to ensure the highest level of response in that area when maritime security is at stake.
On 22nd June, Operation Atalanta bid farewell to Rear Admiral Slaars who was its Deputy Operation Command during the French Presidency of the European Council. His dedicated and inspiring leadership brought fresh impetus to Operation Atalanta. Most importantly, his commitment provided for the preconditions to activate Atalanta's secondary executive mandate task of combatting drug smuggling. Due to his active engagement, the French navy deployed several vessels in Direct and Associated Support to Atalanta, which were able to identify, intercept, apprehend, and search drug smuggling eight dhows in March and April, as well as seizing and disposing 12.7 tons of illegal cargo. Our best wishes accompany Admiral Slaars on his future professional and private way.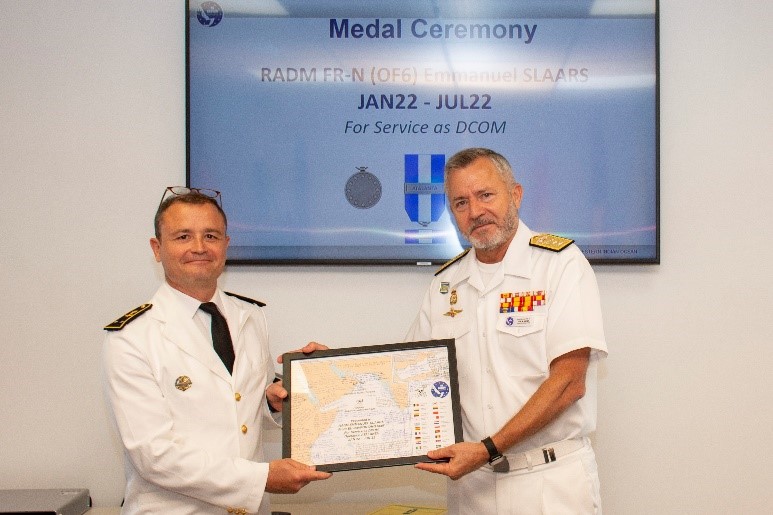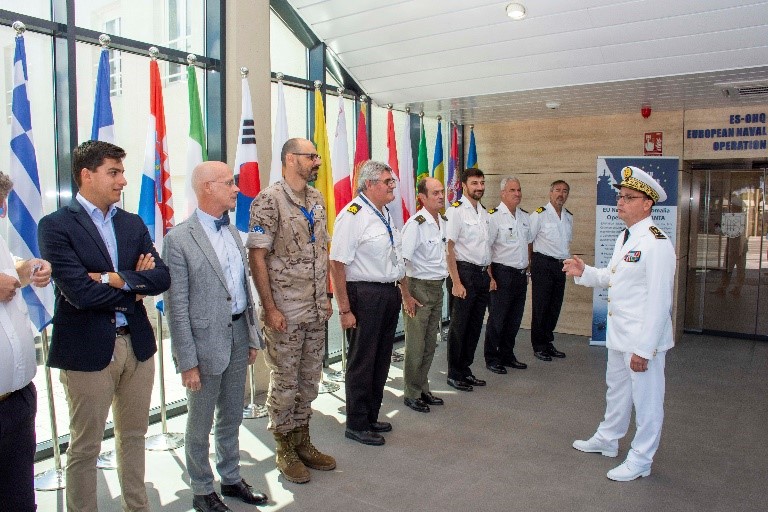 OpCdr VA José M. Nuñez Torrente and OHQ staff bidding farewell to outgoing DCOM RA Emmanuel Slaars
On 22nd of June, Operation Atalanta welcomed its new Deputy Commander, Rear Admiral Paolo Spagnoletta of the Italian navy. He took over his new duties from French Rear Admiral Emanuel Slaars who had played a crucial role in implementing Atalanta's secondary executive task of fighting drug trafficking. We have already explained the valuable contribution of French assets in direct support to Atalanta under the modality of "catch and release" in April and May 2022.
Initially a submariner, Rear Admiral Spagnoletta can look back on a broad range of professional experience.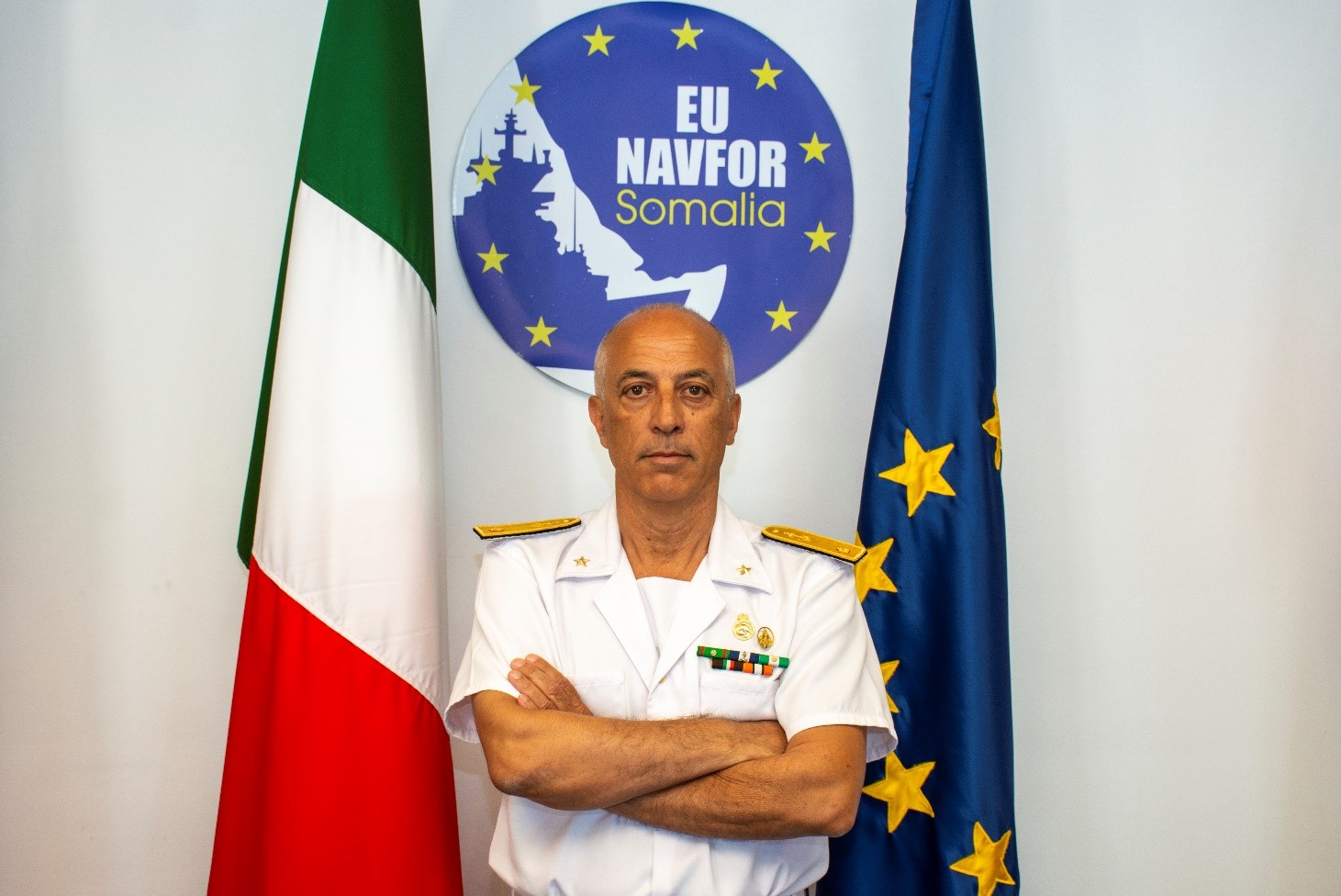 EU NAVFOR ATALANTA DCOM, Rear Admiral Paolo Spagnoletta
FORCE COMMAND TF465
During the first week of June, the Spanish Defence Attaché to Ethiopia and Djibouti paid a visit to Atalanta's Spanish Air Detachment and had the opportunity to participate in a patrol onboard the ESP P-3 Orion, which is one of key assets of Op. Atalanta. On 9th June, the SEA detachment received the Commander of the Italian Military Support Base in Djibouti and was briefed on its operative logistics role.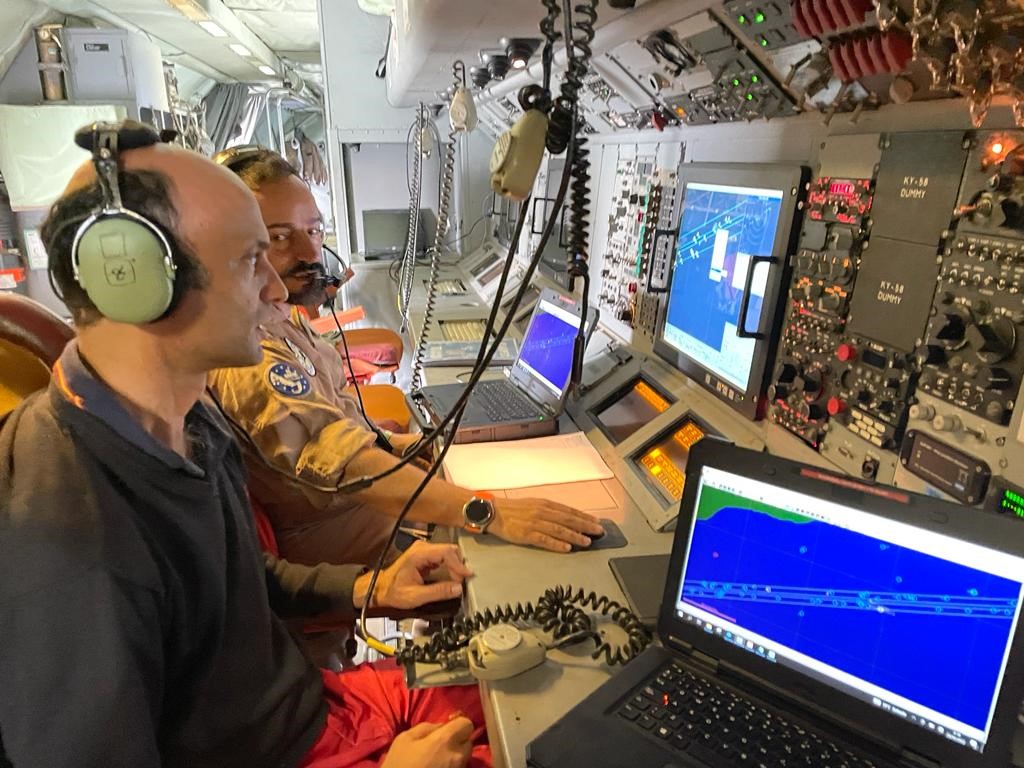 Spanish Defence Attaché to Ethiopia and Djibouti on board of the MPRA P-3 ORION
On 21st June, for the first time Operation Atalanta's Special Operation Maritime Task Unit (SOMTU), units of the US Combined Joint Task Force Horn of Africa (CJTF HOA), and of the Djibouti Coast Guards conducted a Personnel Recovery exercise on Djiboutian land and sea territory.
While in patrolling the Arabian Sea, flagship "Bergamini" conducted a Joint Maritime Activity with the Omani corvette "Al Shimick", during which manoeuvres and communication exercises were practised. This kind of activity enhances inter-operability and strengthens mutual relations with strategic partner countries.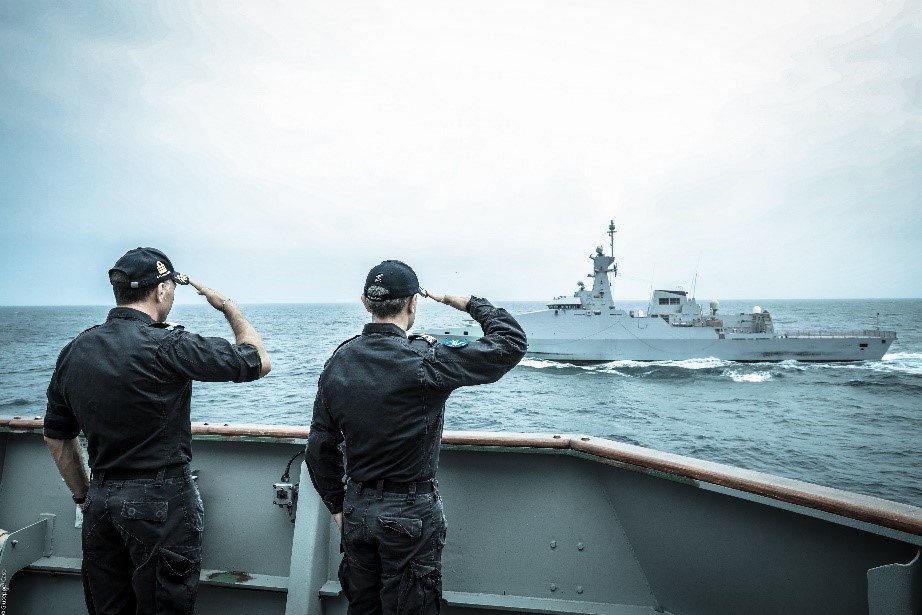 ITS Bergamini & OMS Al Shimick
Shortly after, "Bergamini" rendezvoused with USS Gonzales of Combined Maritime Force TF 153 in the Gulf of Aden to carry out similar activities.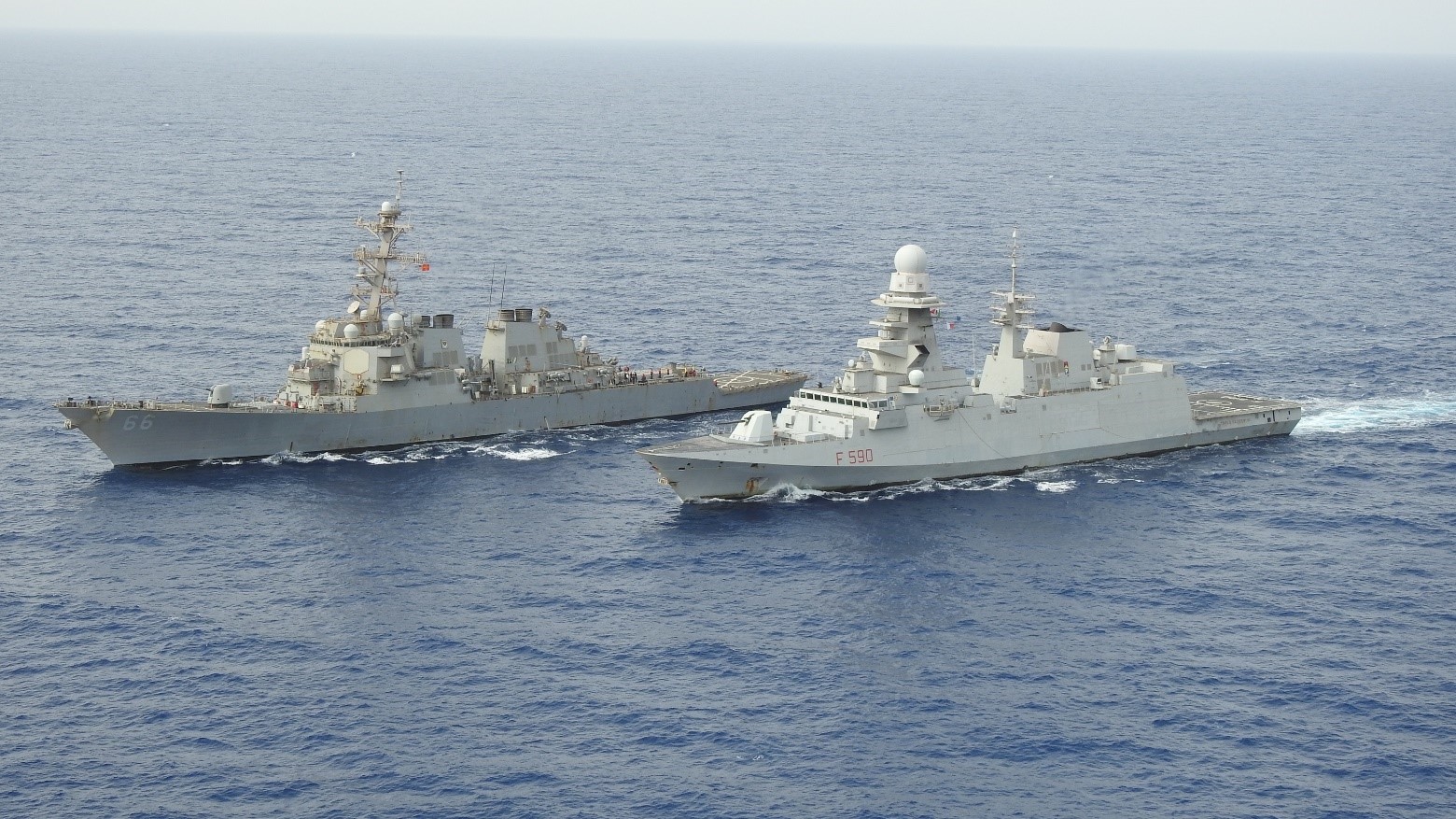 ITS Bergamini and USS Gonzales
Besides the Force Command flagship, Italian frigate ITS "Bergamini" (from 17.03.2022 to 22.06.2022) and the Spanish Maritime Patrol and Reconnaissance Aircraft CISNE, these assets have temporarily reinforced the Operation in Direct Support, i.e. under control of the Force Commander, or in Associated Support, when the asset remains under national command: (from left to right) Italian frigates ITS "Bergamini" (in Direct Support from 23. to 28.06.2022) and "Fasan" (in Direct Support from 17.06., Force Command flagship since 22.06.2022), Spanish frigates ESPS "Canarias" (in Direct Support from 17.03. to 10.06.2022) and "Numancia" (in Direct Support since 20.06.2022), , and FS "Loire" (in Associated Support from 11.05. to 19.06.2022).

MORE THAN SHIPS
The Chief of Staff represented Operation Atalanta in the 5th EU – ASEAN (Association of Southeast Asian Nations) Security and Defence Policy Seminar, which took place in Brussels from 28th to 30th June, during which he gave an overview over its tasks, operations and possibilities of cooperation.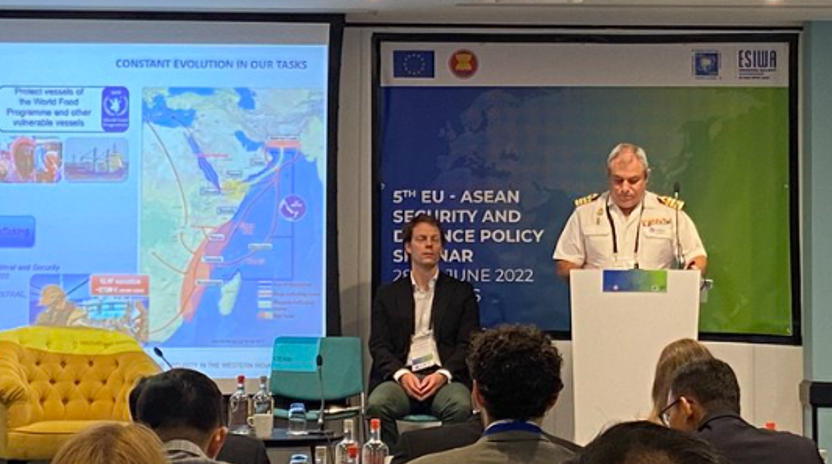 COS speech during the 5th EU – ASEAN Security and Defence Policy Seminar
Operation Atalanta's CJ3 ACOS and its Shipping Industry Advisor attended the High-Level Meeting of the Djibouti Code of Conduct (DCoC)/Jeddah Amendment, which took place in Dubai from 28th to 30th of June. Atalanta's representatives participated in three panels and delivered briefings about "Evolving Threats in the Indian Ocean" and "Developing Regional Capabilities to Align with New Priorities".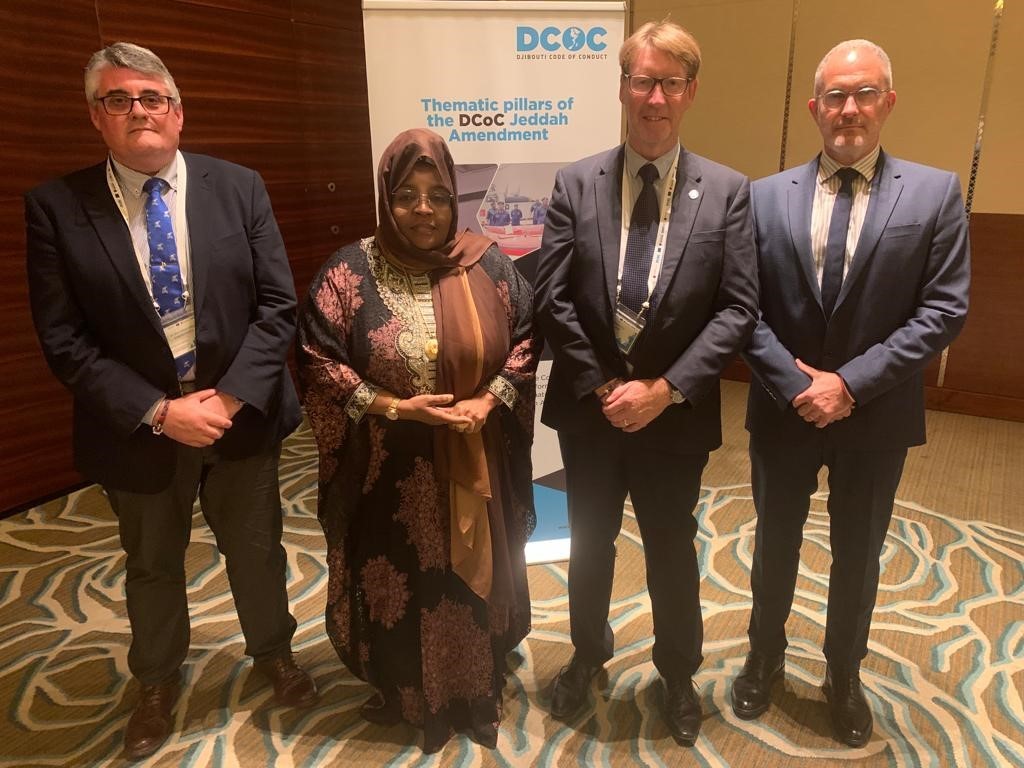 Somali Minister of Ports and Marine Transport, H.E. Maryan Aweys Jama, the EUCAP Somalia Special Advisor, Mr. Andrew Lyttle, and the representatives of EU NAVFOR, Captain Reina and Lieutenant Commander Canovas
Together with our Italian colleagues we celebrated Italy's National Day, Festa della Repubblica, on 2nd June, and enjoyed Italian food and drinks. On 6th June, the OHQ celebrated the Swedish Flag Day, marking the day when after defeating the Danish King, elected King Gustav Vasa set up his colours in Stockholm in 1523. On 10th June, the OHQ also celebrated Portugal's National Day, the day when one of its most famous poet, Luís Vaz de Camões died in 1580.